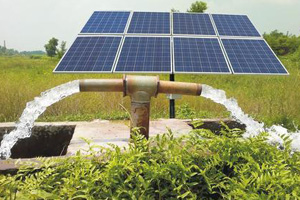 Photon Water Pump is available in models ranging from pt 25 HP to 3HP. The water output at full sun's radiation for eight hours is 1,30,000 liters per day. It's suction is max 5 mtrs and Head of 10 mtrs. Its panel has a tracking system which needs tracking two times a day.
Description of standard 1HP pump
Photon Water Pump contains 24*37 Wp Solar PV panels and 1HP water pump. This pumping system consists solar photo-voltaic panels of 750 watts to 900 watts and a 1HP DC pump that runs on the power generated by the solar panels.
The system can be used to operate pumps for watering gardens and many other applications. Also the power generated from the photo-voltaic panels can be used for lighting and other purposes when the pump is not in use.